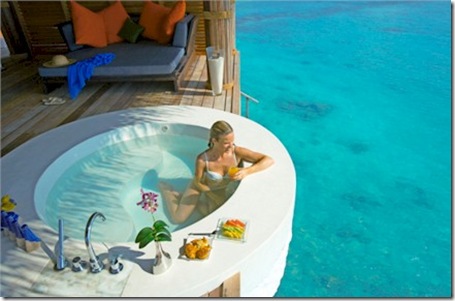 One popular feature that I do adore is the al fresco bathing. It is not an uncommon luxury feature of tropical resort, but they are typically secluded to a sheltered back garden. But if you want the experience with elegance, style, comfort and a view, the Island Hideaway at Dhonakulhi has really nailed it with their Hideaway Water Suite. The tub is perched right on the best view of the ocean.
It reminded me of our stay at Londolozi Game Lodge in South Africa where the designers had smartly put the elegant tub by a big window overlooking the river down below. You could watch the elephants bathing while you had your own scrub.
And if you can't or don't want to spring for the posh Water Suite, you still can partake of a lagoon-vista'ed soak at their Mandara Spa (see below).