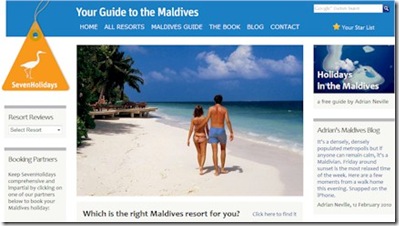 I'm starting a new category of my 'Best of' posts to cover the vast, growing and consummately useful area of Online resources. So not specifically focused on each resort directly, but a great complementary way to find the perfect resort. As stated on the home page and in my very original post, I started the Maldives Complete site out of frustration with the incompleteness and emptiness of most sites on the web about the Maldives. That said, there are some real gems.
The first gem I have to feature is one which launched shortly after Maldives Complete – Seven Holidays. The man behind the site, Adrian Neville, is a legend in chronicling the Maldives resorts. His book, 'Resorts of the Maldives', was one of the first and most cherished guide books that I bought on the area. His SevenHolidays is essentially an interactive, digital version of that book. It is distinguished for truly insightful, articulate and professional travel reviews of the resorts. None of these simply effusive, contrived glow-fests one finds littering so many travel and resort sites.
Beyond the core of well written, insightful and balanced editorial, Neville has also invested in a very slick and functional site. In fact, I would say that SevenHolidays is the slickest and smartest looking of the Maldives resort web sites. But some clever functionality and a quite comprehensive set of information is what makes it so useful. The special utility functions include 'Resort Top Sevens' (a 'best of' selection for a range of criteria like 'Beaches', 'Rooms', 'Romance') and a basic filtering search called 'Limit By' which allows people to filter on the two criteria of 'Price' and 'Room Density.'
In fact, a fan of both (thanks Francis) wrote me recently and suggested that if you combined Maldives Complete and Seven Holidays you would have the perfect Maldives site.