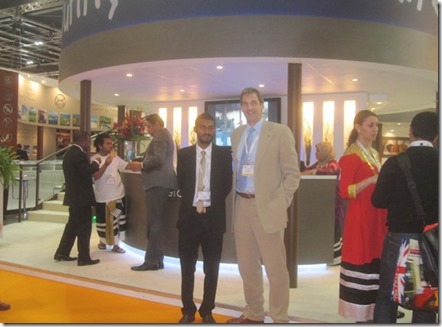 The Maldives coming to London is better than nothing (though never as good as London coming to the Maldives). The movers and shakers in the Maldives resort community have taken up residence at the Excel centre this week as a part of the World Travel Market.
Today, I had the chance to catch up with friends and supporters from across the industry including the tourism ministry, many resorts, tour operators, agencies, and other afficionadoes (like Adrian Neville). I caught up with Mohammed Elaf of the MTPB (see above) who focuses on their social marketing. I got to put another face to a TripAdvisor Maldives Forum stalwart, "Kanthony" of Conrad Rangali. I got to get some research on some of the new resorts coming on line like Velaa, Atmosphere Kanifushi and "Loama Resort Maldives at Maamigili". I uncovered some great new "Best of the Maldives" pieces (eg. 'island fit for an ancient king', snow room, bamboo bicycle, turtle sanctuary, fly fishing).
The only thing missing was blinding sunshine, flour-soft sand, and an aquatic tapestry surrounding it all.