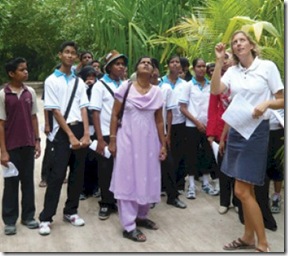 If you fancy contributing more than an afternoon helping the Maldives through a activity like reefscaping, and more than a day doing something like Earth Hour, then the Six Senses resorts Soneva Fushi and Soneva Gili are offering a special 'Voluntourism' rate between 1st July and 12th October 2010.
"Soneva Fushi and Soneva Gili by Six Senses are offering the opportunity to give something back. For the next six months, guests are invited to stay at either resort for five nights, without charge and to spend five hours of each day working on local community projects, such as marine conservation, teaching children, planting trees and learning how to turn waste into wealth. This unique Eco Season voluntourism package includes 5 nights paid, 5 nights free in exchange for 5 hours per day of valuable and motivating work for the first 5 days of a luxurious 10 day stay.
"Guests can choose from the following areas of work:
Marine Conservation
Waste Management
Carbon Mitigation
Youth Education
Boost Local Island Income"
Here are links to the documents with full offer details as well as the work breakdowns.