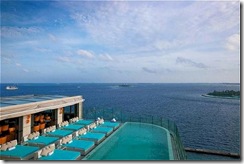 Most people want to stay in the Maldives as long as possible. Some friends have shared that they really downshift into super-relaxed mode after the better part of a week there making a second week all the more indolent. It used to be that two week trips were not that much more expensive in total than the one week equivalent, but the shift to commercial flights from charter and the generally more expensive resort rates have made the costs more proportionate.
However sometimes travel logistics mean that just a short stay is called for ('Male Short Stay Hotel'). I personally was just blown away by the Holiday Inn Male when we visited there on a day trip (Best for Pool Seating, Best for View). Now that they have made it even easier to just pitch up and 'stay' there, I really think it is the best option for someone with just a day to spend in the Maldives.
"Our hotel has developed a series of day packages, allowing travellers to use the facilities of our hotel, taking away the frustration of waiting and instead providing a pleasant and relaxing end to their stay in the Maldives."
They have a 'Day Use Room Package' from $165 and a 'Facilities Use Package' at $75.