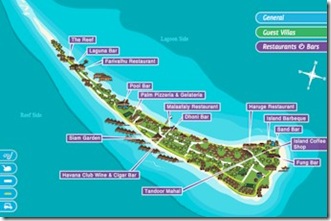 Kuramathi island just this past month combined the three 'resorts' there – Blue Lagoon, Cottage Club and Village – into a single, consolidate resort. It always was a bit confusing having them sold as 'separate resorts' though all on the same island and sharing the same infrastructure.
The consolidation means it is one of the largest resorts with the most extensive facilities. Its 290 rooms is amongst the largest, it has 9 room types. But perhaps most prominent is the sheer number of its watering holes. 7 in total including a wine and cigar bar.
We visited several years ago and were pleasantly surprised by the resort. It had been somewhat affected by the tsunami which led to some renovations and the new work was a 5-star standard (eg. the new spa), not the 3-4 star quality that the resort had been known for. The new renovations accompanying the consolidation seem to have upgraded the island even further. Also, we were apprehensive about going to such a big island because we loved the distinctive diminutive quality of the Maldives, but we were struck by how little the size put us off. We couldn't walk the circumference between drinks and dinner, but it still had a quaint, remote and intimate feel. The picture below is the family enjoying a game of Pirateer (our traditional Maldive board game) chillaxing at the 'Pool Bar'.