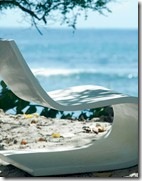 Speaking of cool seating, Kandooma recently completed a revamp of its resort and its web page so you can get an good sense of the impressive overhaul. The first item to strike me was its 'funky' beach chairs. Actually, when I was in Kurumba last month, I remember thinking to myself how all these fancy resorts have all this distinctive design and yet when you look at the beaches you see the same old white, plastic beach loungers one sees all over the planet. They just seemed a bit pedestrian relative to how remarkable the locale is. Kandooma seems to have decided to make their beach seating as eye catching as the beaches themselves.
I also love how they have created a special 'in water' seating area at their new pool (see below). You often find 'bar stool' seating in Maldives pools, but this is the first time I have seen lounge seating right in the pool. It is like having a stationary lilo complete with side table.
In fact, funky seating seems to be a real focus for the new design will all sorts of quirky chairs sprinkled across the resort. Examples include the Kids Club 'swing seats' and 'Pineapple Chair' lounger shown below and the gallery on their website has plenty more.