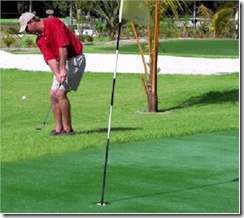 In a part of the world where there is not enough space in one place to land a commercial airplane, you wouldn't expect to find an activity known for vast expanses – golf. While The Beach House has a golf simulator, Kuredu has a full fledged executive 6-hole golf course.
The website describes…
"Kuredu Golf Club is the first of its kind in the Maldives. The Golf course is located on the eastern portion of the Island, surrounded by natural forest and the noise of the ocean. There could be no where more peaceful for the game of golf.
The Golf Club boasts a full size driving range with the option of a shaded area and also hitting from the grass. A large putting green is also available to perfect the short game.
The golf course is a 6-hole Par 3 course with the average length of a hole being 55 yards. With some great characteristics on the golf course it proves to be a fun and "sometimes" a challenging experience.
Our Head Pro, PGA qualified golf professional is available for tuition on all aspects of the game. All equipment is provided for rental free of charge from the Pro´s Shop, where all bookings can be made. Any teaching course can be set up to suit the individual or group."