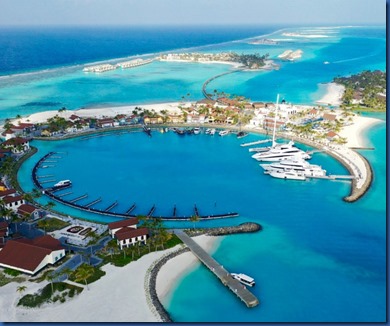 At a destination that is 99% ocean, one of the best ways to explore and experience this paradise is on the water itself. Dive boats have long been a staple of the Maldives, but the rise of guest affluence has introduced more and more luxury yachts and cruisers passing through this equatorial archipelago.
Previously, the only full service in the country was at Hideaway Beach resort. The Crossroads at Maldives introduces an entire marina complex with acres of property to cater to every billionaire's need:
"Offering an impressive 30 berth quay, complete with world-class facilities, the Yacht Marina @ CROSSROADS is the ideal haven to weigh anchor. Catering for vessels from 10 to 60 metres, this is the ultima explorer's paradise."
You can even get full board and half-board dining plans at the Marina's eateries.
Your own personal floating water villa.