Buzzfeed is the latest Internet frenzy and I admit that I have subscribed to their daily feed of wacky lists and other esoterica. 'Top X lists' have always been a hit on the Internet but Buzzfeed have really perfected the craft. I'm in fact working on an e-book titled "The Best of the Maldives" which features a collection of "Top Ten" lists for a broad assortment of categories drawn from the "Best of the Maldives" oeuvre. But for now, I thought I would take a bit of Buzzfeed inspiration for one of my own lists narrated by everyone's favourite crustacean, Sebastian…
"Under the sea / Under the sea / Darling it's better / Down where it's wetter" – Little Mermaid
1. Guess who's gon' be on the plate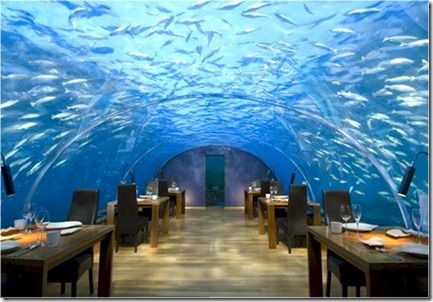 The first and still the most spectacular under da sea Maldives feature with its 180 degree all glass surround, Conrad Rangali Maldives' Ithaa restaurant was the pioneer which started it all. Now the tables are turned with the fish looking in at the diners ensconced in their aquarium.
2. You dream about going up there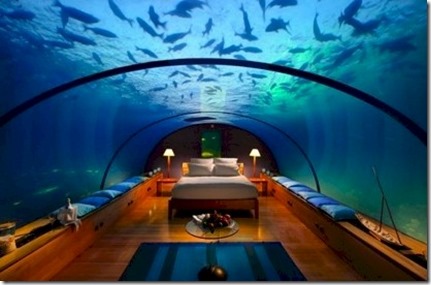 Conrad Rangali didn't stop at dinner. A few years on, they realized that they could double their utilization of this amazing space by clearing out the dining tables and moving in a bed. Unfortunately, the logistics got too demanding and they have since ceased this offer.
3. Life is the bubbles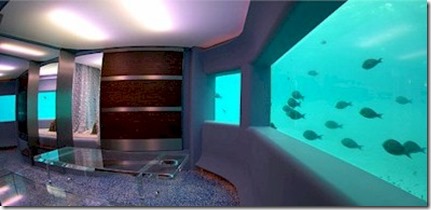 You can lie down and relax (and if you are like me, doze a bit) at Huvafenfushi's underwater spa. Fish pedicures are not on the menu.
4. An' oh that blowfish blow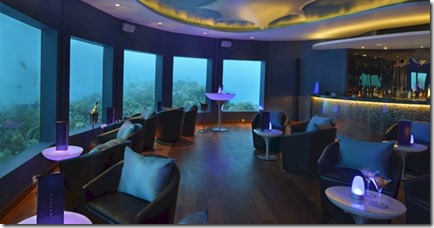 NIYAMA's "Deep Six" lounge turns into a nightclub. Have yours with a splash.
5. Darling it's better down where it's wetter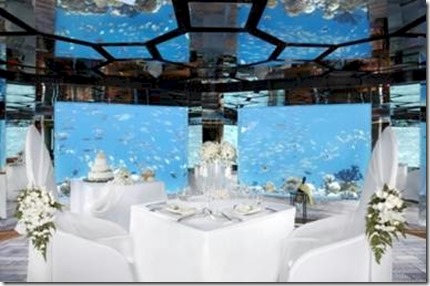 Anantara Kihavah Villa's underwater function room is used for weddings and other special events like wine tastings from its 6,500 bottle wine cellar. Cheers!
6. Just look at the world around you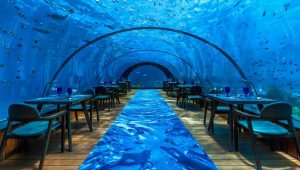 Hurawalhi has added it's own larger grander life aquatic eaterie which is the biggest in the world.
7. The seaweed is always greener in somebody else's lake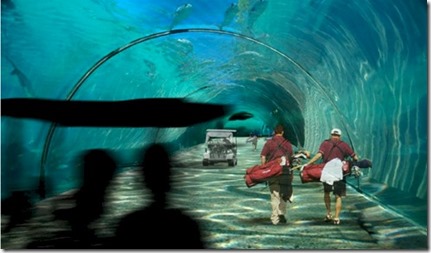 What more could you do? What could the future hold? The firm Dutch Docklands created concepts for a underwater linked links. Should help to find your ball in the water hazard. Wait, the entire golf course is a water hazard.
Under the sea
Under the sea
Since life is sweet here
We got the beat here
Naturally