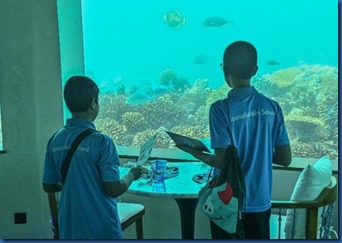 The underwater, well, everything in the Maldives is so amazing that every visit should feature as much of it as possible. I love underwater facilities, but I especially like when the resorts expand their use to for other things so as many people can enjoy the underwater experience as possible. OBLU Ailafushi and OBLU Lobigili are using their underwater restaurants as a marine classroom. And part of their coral-life curriculum is a fun treasure hunt for different species of marine life. And the activity is not just for guests, but the properties also invite local Maldivian school children over to enjoy and benefit from this unique classroom experience.
"The Educational Marine Tour sensitises school children between the ages of 5 to 12 years about marine life. They identify fish and corals, connecting with the country's fragile ecosystem. This initiative attempts to educate future generations who may decide to have a career in hospitality. Every month the resort will invite students from different schools in Malé for the program."
Two of my favourite things to enjoy in the Maldives – underwater and treasure hunts!