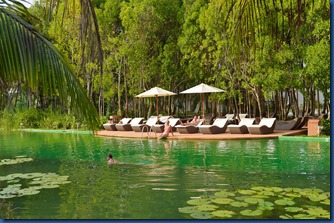 The pool is one of the most central components of a Maldives resort. The Maldives Complete website's earliest origins were a spreadsheet I assembled from research about which resorts had pools and which didn't because our kids loving playing in the pool all day (and Lori and I could lounge comfortably on the sides while they did). Yes, Maldives islands are surrounded by one big giant natural pool called "the ocean", and it's lovely, but sometimes the salt, sand and sun (it's easier to get protective parasols closer the water with a pool than the sea) just can just a bit too much.
If you want the comforts of a pool with the added bonus of a natural feel, then Dreamland Unique has topped its unique water feature with a unique "Biotop" model:
"Dip into the first ever freshwater lake with a Biotop Pool (1st ever in Asia) in a Maldivian resort. This picturesque lake is surrounded by 20m high mangrove trees on one side and 20m high palm trees on the other side. This island with its fresh water lake and the rich vegetation is unique in the Maldives. There is no other island like this in the Maldives."
The inventor, Biotop, describes the construction:
"Plants and micro-organisms within an additional regeneration area directly adjacent to the swimming area act as environmentally-friendly filters, thereby ensuring that the water always stays clear."
At Dreamland you can have the natural seafront at the beach and the sensation of lakefront by the pool.