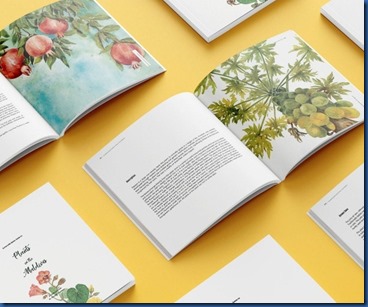 jlk
In this increasingly digital world, books are becoming rarer and rarer. Guide books are replaced by travel sites, identification guides are replaced by apps. Kuramathi's own publication "Plants of the Maldives" exemplifies so many aspects of what makes a hard copy an especially enjoyable. It's not just a source of information, but a superbly well-designed publication packed with gorgeously artistic drawing. The book format makes perusing the leaves about leaves leisurely and satisfying:
"The resort island served as an insightful base where most of the featured flora are found thriving in several nature appreciation sites such as the 300-year-old Banyan Tree, the Botanic Walk, a route where guests can observe diverse tropical vegetation, the Nature Trail, an untouched Maldivian forest in the heart of the island, and the Hydroponic Garden where most of the fresh produce served in the buffet restaurants are grown and harvested. 'The publication is a credible knowledge tool added to the extensive activities of the resort. The book captures information on 65 plants, that constitute our biodiversity and are used in our food, culture, and traditions,' said Dr Aminath."
It is an aesthetically satisfying memento of this paradise where the land life often seems to get second billing to the legendary aquatic life around it, but the tropical lushness of its flora is just as much a part of this dreamlike destination (and perhaps long overdue, I have now added the tag of "Plants" to the blog).