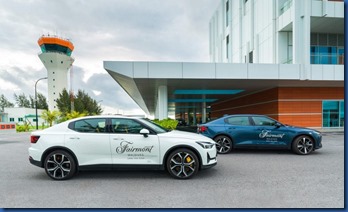 The on-island of default has been electric buggies since the very outset of the Maldives resort industry, but getting to the island was a different story. All manner of petrol driven buses and cars transferred people from the main international terminal to the domestic terminal, sea plane terminal or other further transfer. But Sirru Fen Fushi has introduced a fully electric fleet of transfer vehicles:
"Fairmont Maldives, Sirru Fen Fushi private island has partners with electric car brand, Polestar, to offer sustainable airport transfers. Guests will be transports from Male Airport to the seaplane lounge in a Polestar 2, before embarking on the seaplane journey to the island."
Our most recent car is a fully electric – the MG ZS EV. It was not too expensive (£20,000), cheap to charge (on overnight off-peak rates), very low maintenance (hardly any moving parts and the parts that are there are no subject to little, dirty gas explosions constantly), not to mention the eco-friendly lack of exhaust.