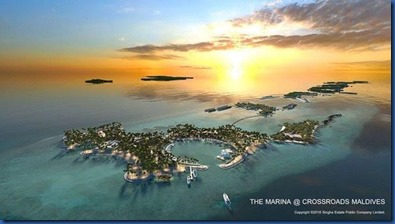 The "one island, one resort" concept has defined the Maldives as a holiday destination for much of its history. But, the destination is evolving to create new experiences for guests, and new economic opportunities for local Maldivians. And in the case of "The Crossroads", new experiences for local Maldivians.
The Crossroads is first a sort of shared "hub" for two existing resorts – Hard Rock and SAii Lagoon – but it will extend to support a further 6 linked resorts planned for the area:
"The first integrated lifestyle destination in the Republic of Maldives: CROSSROADS by Singha Estate, is set to open in early 2019 at Emboodhoo Lagoon…presenting a variety of offers including dining, shopping, entertainments and leisure activities. CROSSROADS Maldives will ultimately comprise 9 islands, 8 hotels and resorts, and a retail space of over 11,000 sqm, equipped with hotel guests' own arrival jetties and inter-island water transportation. The Marina @ CROSSROADS welcomes visitors of all ages – both foreign and local – among its unique offerings will be an upscale boardwalk, featuring a stylish dining experience, and hosting celebrity chefs and world-renowned DJs. The integrated project will feature the Maldives's first luxury yacht marina, the eponymous establishment of The Marina at CROSSROADS, which will host the guests' private yachts and plays its role in redefining the Maldives' tourism experience."
But it is not just a wide range of international visitors who can enjoy Crossroads, but the development very much welcomes and it quite popular with local Maldivian residents who take the short transfer over from Male to enjoy the array of restaurants, shops and seaside promenades.