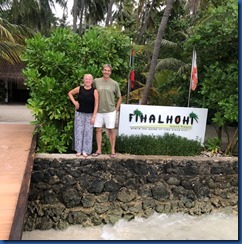 Longing for the simple Maldives – no TV, no pool, no butlers. Fihalhohi took us back to a classic, original version of the Maldives.
Fihalhohi was the lowest priced resorts on our tour and has long been one of the more basic of resorts in the destination. I remember first researching it decades ago and it had a bare bones website with a few sketchy photos. So we weren't expecting too much. Nonetheless, it supposedly had a lovely house reef and is one of the classic properties so we were keen to check it out.
We were so pleasantly surprised. The villas had had a refurb a few years back and so, while still simple, they were fresh and smart looking. The general common area infrastructure is still a bit dated and worn, but that gives it a bit of charm.
Satisfaction is all relative to expectations…and, I must say, Fihalhohi (or "Fiha" as it is colloquially referred to) considerably exceeded ours. We also made some nice friends (see below)