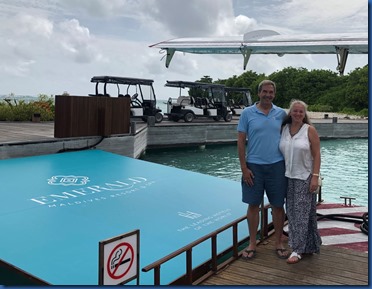 Emerald makes a big impression for a small island. The juxtaposition of spacious and grand facilities on the intimate island provides an cozy luxury for those who want the diminutive island (you can walk completely around in a matter of minutes) while enjoying comfortable spaciousness in their dining, sleeping and playing areas.
Emerald is also probably the most "resort-y" of Maldives resorts we have been to. It exudes the luxury and indulgence of the resorts depicted in films ("Couples Retreat") and television ("White Lotus"). I think it is because their common area facilities have this extravagant grandeur about them.
And yet, the property maintains its distinctive Maldivian charm – stylish touches of thatch, expansive white sand beaches, accessible house reef, and (our favourite) a sand floor in the bar (which so many of the newer and more upmarket resorts have eschewed).
Emerald is playing in the $1000/nt premium AI segment which is hugely popular at the moment as it is a real sweet spot for the affluent professional visitor willing to shell out for a distinctive holiday while keeping the outlay somewhat under control. A number of excellent 5-stars resorts are also positioning themselves in this space and choosing between them comes down to rather subjective considerations. I would recommend Emerald for those who want a big experience on a small island.