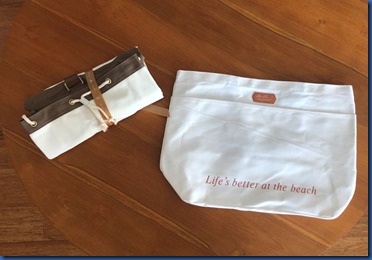 Some of Amilla's complimentary items are a gift to the guest and the planet. They provide a variety Mon India bags for guests' use and some for guests to even take home made out of plastics that would otherwise be destined to end up in the ocean that surrounds their visit:
"We have started making bags and accessories out of Ocean Bound Plastic Recycled Fabric. We have developed an ethical supply chain, with our partners collecting plastic bottles and other kinds of plastic and preventing them from entering the seas and ocean. Recycling the collected plastic into fine polyester fabric. Once the fabric reaches us, we make Bags and accessories out of it."
Amilla includes laundry bags, hairdryer bags, toilet roll bags, table covers and beach bags from Mon India for the guests' use. And the kids get a welcome back pack (see below) inspired by the local star wildlife resident, the White Long-Tail.