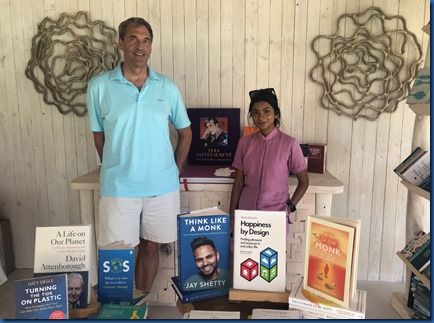 International Book Day today. And no better place to be in the Maldives than the home of Maldives own resort bibliophile Malsa Maaz, overseer of Soneva Jani's bookshop. Yes, the Soneva sister property, Soneva Fushi pioneered the bookseller concept, but Soneva Jani adds the extra distinction of being over water (like most of Soneva Jani) so you can browse with azure vistas around you. The other distinction is that the "Barefoot Bookseller" is a Maldivian herself. Maldives Complete was fortunate to catch up with her during its recent tour and she provided an exclusive interview with her own riveting story.  For many of us, the pandemic lockdowns resulted in more reading than ever, and for Malsa it changed her life…
Where are you from in the Maldives?


I am from Malé, the capital city of the Maldives. I grew up and finished high school there.

What was the first book you remember loving?


The very first book series I remember falling in love with was the Magical Faraway Tree collection by Enid Blyton. The story revolved around three children who discover the Enchanted Woods with its magical folk. Enid Blyton's books such as the Famous Five and Secret Seven were quite popular with Maldivian children and were readily available in the school library or bookshops.

What did you study?


For my Bachelor of Arts, I studied Archaeology and Anthropology and I have just finished my Master of Research in Engaged Anthropology in the University of Wales Trinity Saint David. I focused on documenting the Maldivian cultural heritage and learnt a few traditional arts & crafts such as coconut thatch weaving and lace embroidery weaving using traditional tools. It is a brilliant discipline that allows me to work just about anywhere.

How did you learn about the bookseller role?


Over the first lockdown, I joined a lot of bookclub groups where I saw an article about a dream job selling books in paradise. I didn't even realise it was the Maldives at first! But I was still studying at the point, so I couldn't apply then. Few months later, as I was finishing my thesis, I saw the job role advertised again on a local news article and it said they were looking for a local candidate. It was perfect timing – so I applied as quickly as I could and now here I am!

What was a question that they asked you in the interview?


I was asked about my previous work experiences and how I would utilise them in the Barefoot Bookseller role. My answer: I was working whilst in university to support myself and have experience in research, retail, hospitality and F&B. All of that work experience and studying a humanities degree has allowed me to improve my people skills especially when it comes to communication and engagement which the Barefoot Bookseller would require.

What is your favourite non-fiction book about the Maldives?


The Maldives Islanders and Folk Tales of the Maldives by Spanish anthropologist Xavier Romero-Frias. He has lived and done fieldwork in the Maldives for a number of years and has contributed to documenting our unique cultural heritage and history.

What book have you re-read (the most)?


Probably Pride and Prejudice! Elizabeth Bennett is one of my favourite literary characters of all time and I somehow always associate with her as she is not scared of breaking barriers. That inspires me – so I always end up re-reading it whenever I feel like I need a little motivation boost.

What book are you reading now?


I am currently reading The Goldfinch by Donna Tartt – recommended to me by a lot of guests. I am also reading The Apollo Murders which is a space mystery thriller by my favourite astronaut Chris Hadfield.

What is the most popular book requested recently?


I have had a lot of requests for the new Bill Gates book – How to Avoid a Climate Disaster and we should hopefully have it in stock soon.