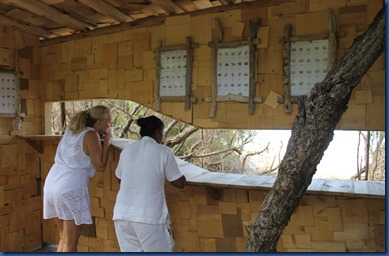 Not all enchanting water creatures in the Maldives are under the water. Soneva Jani has a dazzling display of creatures on the water.
The air above the Maldives is regularly filled with both the colourful plumage of various tropical birds as well as their distinctive songs composing the melody line of uniquely Laccadive soundscape. The songsters are often hidden in the lush foliage, but Soneva Jani has the best place in the Maldives to see not only the water fowl varieties, but also a range of other birds drawn to its expansive mangrove lakes.
Such an avian attraction would be distinctive on its own, but Soneva has gone ahead and made this nature preserve a special feature with an inspired bird blind. First of all, the blind allows guests to get a good view of the flocks of ducks, terns, koels, herons, etc. without disturbing them. Then, for an even better look, the resort has set out a pair of binoculars at the blind for guests to use. And if you do spot a feathered friend that you want to know more about, they have posted an array of laminated bird identification posters (with 80 different birds) for reference. On top of all that, the blind is constructed with characteristic flair with the "wood scrap" aesthetic used at the Crab Shack and elsewhere.
Our butler Aysha told us that she has seen birds there that she has never seen growing up in the Maldives. And while we were there, we spotted a dramatic Glossy Ibis (see photo at bottom).