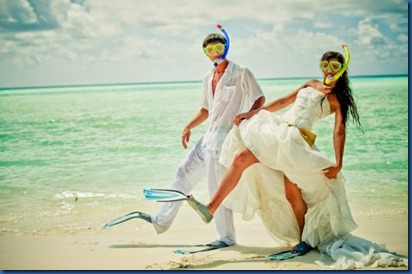 Maldives resort Oprefooshi has combined the top two reasons to visit this bucket list destination – honeymoons and snorkeling – into a single, once-in-a-lifetime experience: Snorkel Wedding.
Couples are provided with a Snorkel-Guide/Wedding-Officiant. Unlike underwater weddings (which have been conducted at various resort), snorkeling allows the bride and groom to share their vows by actually speaking to each other (while treading water). Why have a seaside wedding when you could be *in* the sea?? And you don't require special training and certification to opt for this nautical nuptials (in fact, if you are a weak swimmer, the property has a special wedding dress with buoyancy aids sewn into the garment (which also add a special buxom look for your wedding photos).
We can fully appreciate the romance of the house reef venue as Lori and I celebrated our anniversary snorkeling (see photo below).