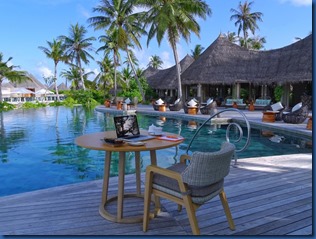 Why add a fake backdrop to your work Zoom calls when you could have the real thing? We've all experienced just how far one can go with remote working during the pandemic lockdowns, but Nautilus is inviting folks to go all the way out to the middle of the Indian Ocean with their special offering "Workstation Package":
"Work remotely from paradise your private Nautilus Beach Houses with our exclusive workation package; have the ultimate zoom call background from our castaway sandbank that will be your office for a day, have a private PA on hand 24/7 and continue your corporate errands whilst your children engage in a bespoke educational programme by Young Wonderers. Available from seven nights or longer if you decide you simply can't leave your new paradise office!"
With prices starting at 23,250 USD for 7 nights in a Beach House you can also enjoy their Workation sandbank experience – "work for a few hours upon our secluded sandbank with your own personal desk, a shaded sun canopy and portable high speed wi-fi."
The concept mashes up two of my passions and my most prominent websites – Maldives Complete and Dynamic Work. My founding vision statement for Dynamic Work (at the top of the home page) was "Within 10 years, the majority of 'office work' will be worked outside the office." Which was a actually just about ten years ago. And research has shown that the lockdown has indeed pushed the incidence of remote and flexible working to 50% of the workforce (varying of course by geography, sector, etc).
Before and since, I have walked the walk of flexible working for many years now. And that meant working while in the Maldives (not just the work of Maldives Complete research, but also my day job that pays the MC bills). I was always happy to work for an hour during a day in the Maldives if that hour forestalled crises back at the office and allowed me to linger in paradise another entire day.