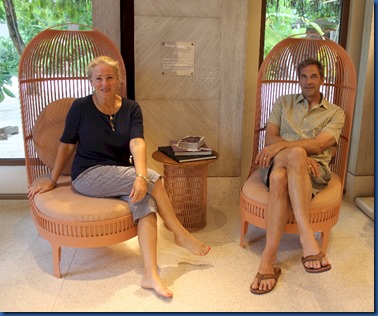 "I wanted to help draw guests into an immersive experience in which they can relax and feel the waves and textures of the island." – Dough Johston – Coiled
Joali immersive art motif is not merely about immersing yourself amongst an expansive collection of art, but also becoming part of the art itself. Not just the piece of artwork, but the surroundings of paradise that frame it, imbue it and inspire it.
One of my favourite parts of an art museum is the seating. After a few hours of standing and soaking in the works of creativity, weary legs can do battle with energized eyes. I especially appreciate seats situated directly opposite particularly engaging works so I can stop and take the piece in a literally relaxed manner. Joali doesn't just have seating to enjoy its works…the seating are the works. The best collection of artistic seating I've seen since the Copenhagen Design Museum. With the added distinction that you can actually sit in them (and are encouraged to do so as a part of the immersive process.
"These works at JOALI are vessels that carry my past. They now breath the air of the MALDIVES and their surfaces will absorb the heat of this wonderful island. They will now listen to stories and befriend guests as they live and age." – Reinaldo Senguino – Ceramic Mini Stools [BELOW]
"Combining traditional technique with playful fabrication, my work embraces – and at the same time protests – functionalism…" – Chris Wolston – Terra Cotta Furniture [BOTTOM]