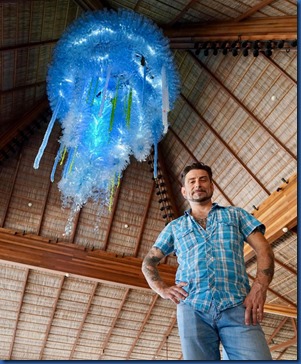 Conrad Maldives is putting the "up" into upcycling plastic with its jellyfish chandelier. The article "How A Hotel In the Maldives Is Fighting Plastic Pollution" describes this and a number of other initiatives (stay tuned) the resort is undertaking to raise awareness of plastic pollution and to minimise it from their property:
"The most visible symbol of the hotel's commitment to the cause can be found inside Rangali Bar. Dangling from the wood ceiling of the open-air bar is a massive jellyfish. At first glance, it could be mistaken for a Chihuly, with its long, translucent tentacles resembling blue-tinted glass. But the sculpture comes from eco artist John K. Melvin, who was commissioned to create the site-specific piece at the resort. Melvin, whose work has appeared in places like Puerto Rico's Forbes Travel Guide Five-Star Dorado Beach, a Ritz-Carlton Reserve, spent a six-week residency collecting more than 5,000 plastic bottles from three islands in the Maldives, sculpting and then stringing them with coconut rope, steel cable, wire and other materials. The upcycled work is titled EvoGyre, a portmanteau of "evolution" and "gyre," which is a circular ocean current formed by wind patterns and the forces resulting from the Earth's rotation. Plastic gets stuck in these vortexes."
Creative approaches to eco-sustainability are looking up at Rangali.