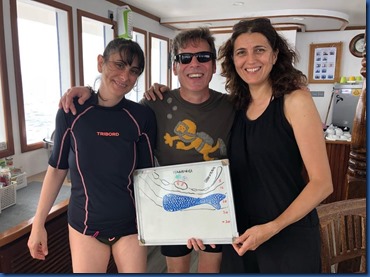 What is a complete guide to the Maldives without including the underwater wonderland that surrounds every resort? Which is why I introduced features like the Snorkel Spotter and the Dive Site database (over 1800 Maldives dive sites and counting).
I have a particular aesthetic fondness for the colourful dive site charts used to brief dives. Some are slick computer generated cartography while others are rough, smudged sketches. They all have their individual charm and story to tell about the aquatic world you are about to explore. But having curated hundreds of these diagrams, I spotted what has to be my all-time favourite on Instagram last week depicting Maamigili
in South Ari Atoll. I actually had a dive chart for that site in that database (see below), but it was nothing like the oeuvre of the Indico's Secret dive crew (above).
Oftentimes, the charts focus on depth changes, key positional markers and the occasional resident marine life. This version was all about the latter. A whale shark to be specific. Let's be absolutely clear here…when you are diving Maamigili, you have one thing, and one thing only in your mind and sights – spotting a whale shark. So rather than faffing around with lots of irrelevant topological features, the dive master simply drew 'this is what we are jumping in the water for…good luck spotting'.