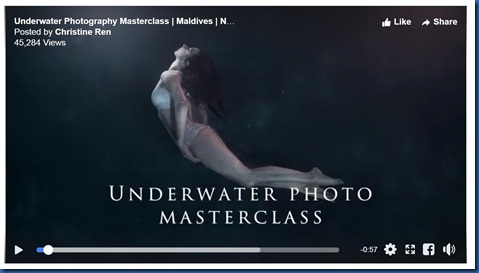 Little Mermaid Day today celebrating the release of Disney's "Little Mermaid" film in 1989. If you want to release your inner mermaid under da sea (sort of a reverse Ariel if you know what I mean, the Palm Beach is offering an aquatic photoshoot by one of the premier photographers of this style.
· "Imagine building a portfolio of one-of-a-kind underwater portraits in the serene, private setting of a Maldivian Atoll. A place where you're photographing skilled underwater models against the backdrop of pristine coral reefs and large marine mammals while also funding local ocean conservation efforts…. Now you don't have to just dream it; you can experience it. Professional underwater photographer Chiara Salomoni leads a once-in-a-lifetime 6 day, 5 night all-inclusive masterclass at the Palm Beach Island Resort in the Maldives on Lhaviyani Atoll, Nov 12th-17th, 2018. This customized workshop enables scuba-divers and photographers alike to gain technical mastery in every aspect of underwater portraiture, working in a variety of settings from pool to open-water shallows and even deep ocean scenes with marine mammals. Expert underwater models Christine Ren and Syrena, Singapore's premier mermaid performer, will pose as the subjects and provide training on how to work safely with both non-models and models in the water. But the best part is 10% of the trip's proceeds are reinvested locally into marine conservation projects. Travel somewhere beautiful, learn amazing new skills, and save the ocean – what's not to love?"
That's why is hotter, Under the water!