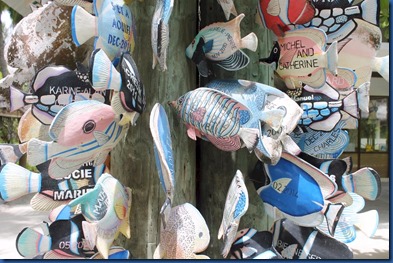 One of my favourite artistic crafts is reminiscent of a sort of tropical Tanenbaum adorned with colourful bass instead of baubles. It is the Rihiveli Beach repeater totem recognition. Situated at the cross roads of the paths which criss-cross the tiny island, is a totem pole covered with decorated fish that include names and dates of the guests' milestone visits.
After 4 visits – Fish added to totem pole
After 15 visits – Fish can be put anywhere you like on the island (like on a tree – see photo below)
The record repeater for the resort is 55.
With this post, I'm adding the new tag "Repeater" for such recognitions and celebrations.