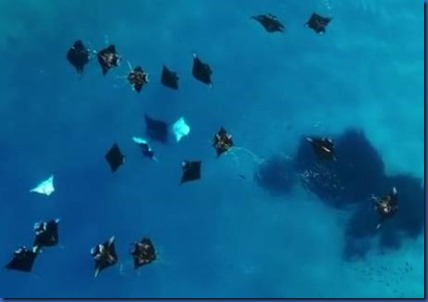 I also do Maldives Complete to ferret out new discoveries. Some people seek out and collect quirky and distinctive commemorative plates or garden gnomes. I collect distinctive features in the Maldives. Every time I find or someone forwards me something I haven't seen, I get a buzz similar to a train spotter seeing a 66779 Evening Star.
It's now become a semi-annual tradition (after my anniversary date in December and before our Maldives departure in July) to share the latest compilation. This group of 24 brings the total to 285. I've actually had to start a spreadsheet to keep track of all the "Haven't Seens" so far (to help me make sure I'm not repeating myself). Of those, 24 have since appeared (with actually a number of resorts telling me that my piece inspired them to acquire or add the feature). They fall in to the following main and secondary groupings…
Activity: Water Activity, Entertainment, Romance, Mermaid, Kids
Infrastructure: Villa, Shopping, Digital, Seat, Décor, Glow, Spa, Artistry, Gadget, Eco, Service
Food: Dining, Frozen, Drink, Lobster, Coconut
Water: In Water, Underwater, Soak, Pool, Boat
Here's the latest selection which happen to add up to an Advent Calendar's worth with 24 treats…
Drone Spotting – For Mantas and Whale Sharks. The dive boats waste so much time going back and forth between known haunts. Boat captains shared sightings information, but a drone would easily spot these creatures and give the search a broader perspective. Much like the African safaris which use helicopters (and increasingly drones) to spot wildlife movements. [ABOVE]

Underwater Topology Table – Great for diving briefings (for a house reef dive) or for just bringing the underwater landscape to view.

Lego Model – Maps are one thing for a birdseye perspective of the property, but a Lego model of a resort would be particularly cool especially for a child-friendly property. A Lego model that included a model of the house reef would be pretty amazing.


Lego Set – The Maldives are sort of the caricature of deserted tiny islands of pirate folklore. When our kids were little, we used to set up treasure hunts for them around the island, and a number of resorts now offer the same. For the young crowd, this Lego set seems the perfect memento for a gift shop.



Pirate Brio Train Set

– For an even more upscale block model set, BRIO is the classic. While the notion of trains in the Maldives might be a bit far-fetched, not much more imagination required than pirate treasure I suspect…





Stick-On Soles

– For protecting against the occasionally sharp shards of coral in the sands without the annoying flip-flop tan lines.
 

Underwater Light Show – Empty lagoon a bit boring without the dramatic drop-off and marine life of a house reef drop-off?  Why not bring it to life with an underwater light show?  Laser shows are a staple at big events like galas and concerts.  A chance for a light artist to explore creations projecting lasers into or under the water.


Pool Disco Light – Or for a more modest light show especially for a poolside disco (eg.  W Maldives, Finolhu), these look like a bit of aquatic fun.



Ocean Wave Projector

– Instead of lighting in the water, you could bring the water in with light. Might be good for resorts that have spa that aren't overwater.



Reef Engineering for Surfing – The east reef of Meemu is an extraordinarily long stretch. But the waves break unevenly because the underlying reef which causes them is uneven. I was wondering if you could "even" it out a bit with some Reefscaping to create the longest surf break in the world.

Surf Dock – Another bit of surf engineering this time on top of the water is surf dock which makes access to the breaks that much easier.  Maldives surfing is known for its long, gentle breaks which are great for beginners and I suspect a surf dock would cater to them that much more.

Floating Beach – Or your overwater engineering could simply help you to chill out swaying and bobbing with the ocean, while being dry and stable on firm platform (Hillside Beach Club, Fethiye Turkey).


Water Go-Kart

–  For a bit more speedy bobbing around the water, how about an electric water go-kart?


Jet Pad – A bit faster bobbing about the ocean…


Water Car – Even faster?



Jet Capsule Yacht

– How about this transfer shuttle?



Fishing Camera

– A luxury techno-yacht calls for some luxury gadgetry for some deep sea fishing.



Mask with GoPro Mount

–

See for yourself where the fish are and bag snaps.



Wallpaper LED TV

– Watch your underwater videos still still in the water.  Coincidentally and curiously advertised on this photoshopped Instagram pic in the Maldives (their marketeers must have had the same idea I did).



Shared Cocktails

– For a location renowned for honeymooners, a bit surprised this hasn't cropped up.


Lobster Tempura – Lots of Asian fusion in the Maldives and lots of the ultimate luxury seafood – lobster – but not yet the classic tempura preparation. I had this dish at Circus in London and it was quite tasty.


Coconut Sugar – A less processed for of sugar, many people consider it to be a healthy alternative to cane sugar with more nutrients. Made from the sap of the coconut palm flower, it seems like an opportune venture for some Maldivian entrepreneur.


Salad Station – Salad Bars, yes. But a station where a chef freshly cuts and prepares your salad to order, no. Inspiration from Hillside Beach Club in Fethiye, Turkey.