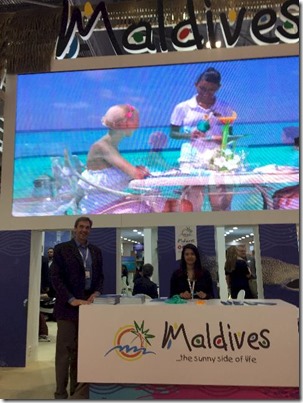 April is when the whale sharks pass through South Ari, and November is when the Maldives resorts pass through London, UK. The World Travel Market is my chance to wallow in a bit of Maldives vibe for a day. Well, at least posters and marketing paraphernalia. But most importantly fellow comrades in the Maldives appreciation.
I get a chance to catch up with long standing friends (like Scott Le Roi of Amilla Fushi below) as well as meet new faces on the Laccadive scene (like Alexa Ponichetti of Baglioni below). We catch up a bit on the latest developments and ideas, meet new members of their staff, etc. Most importantly for me, it is a chance to get some new acquaintances and material on upcoming openings. The pending arrivals I learned more about included Baglioni, Emerald, Aarah, Amaya, Carpe Diem, and Robinson Club Noonu. Not to mention some intriguing developments in existing properties (like Huvafenfushi's complete refresh).
The Sunny Side of London…at least for a day.