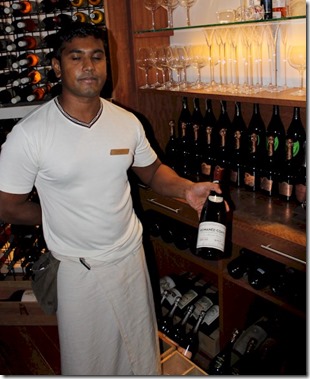 "Only somebody who really takes the time to understand Pinot's potential can then coax it into its fullest expression. Then, I mean, oh its flavors, they're just the most haunting and brilliant and thrilling and subtle and… ancient on the planet." – Sideways
Pinot Noir Day today. If you are wondering why we should be celebrating such a specific varietal, then check out the clip from the Oscar winning film "Sideways" at bottom (excerpt above). I guess Miles' sentiments echo some of my inspirations behind Maldives Complete. It really takes time to coax the Maldives "into its fullest expression" in an informative website.
And if you want to sample the most haunting, most brilliant , most thrilling and most subtle Pinot, then you need to visit Huvafenfushi for its Romani 1999. The bottle (shown by sommelier Indica above and in the photo below) will run you $30,000.