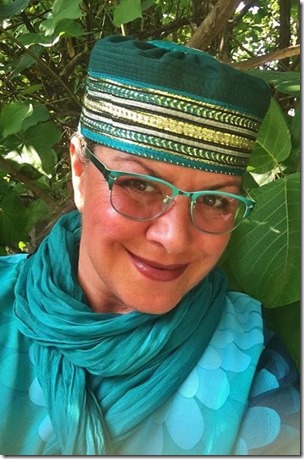 Maldives Complete is all about comprehensive authority on everything about Maldives resorts. If there was one person who embodied not just the expertise, but the very spirit of the Maldives, it is Paola Mattana Lamperti.
Paola is probably the website's biggest fan and definitely its strongest contributor. She is like the Watson to my Sherlock (or Lucy Liu to my Johny Lee Miller) in ferreting out the esoteric and noteworthy in the Maldives resort landscape. She has shared more "Best of the Maldives" discoveries than anyone such as "Alternative Ping Pong" and "Eco-Offer". Her eagle eyes are also superb at spotting errors in my posts or database and helping me update and correct them.  Her knowledge is absolutely boundless. A great illustration is her response to Michel Blatti in the Facebook post shown below.
But her most uncannily super power is her ability to sleuth out resorts from the smallest of details. In the "Fashionista" series of posts (she is very self-effacing, but the photos I've included here show that she is quite the fashionista herself with a distinctive style and some striking poses of her own). I have a protocol of almost exclusively posting photos where I can identify (a) the model (Very often advertisers and photographers exclude model credits and I am more interested in the person visiting the Maldives than the brand promoting there), and (b) identify the resort (I want to connect the photos to specific resorts since that is what this website is all about). Very often the latter is omitted. Sometime this absence is oversight, and sometimes it is just opting for the more generic (and widely known) geo-tag of the "Maldives" destination, but all too often it is the model, celebrity or self-professed social media influencer holding the property hostage by saying that they won't mention (inherently plug) the resort without some sort of concession, discount or freebie. While I have been the beneficiary of plenty of generosity by the Maldives industry to help the very expensive non-commercial work I do, I never require it in order to include, write about and promote every single resort in the Maldives. So to keep true to form, I am often able to identify the resort by just the details in the background of the shot. If a villa or jetty is there, then those are the easiest to spot. A light fixture or deck seating is a bit more challenging. But if there is skimpiest of details, then I turn to my uber-expert Paola to help me identify the resort. She hasn't failed yet. Sometimes it can be a real puzzle with just bits of the resort sneaking into the picture to help us to exclude or narrow down our search. We like these puzzles the best and refer to it as our "Maldives Sudoku".
But Paola's heart is as strong as her mind when it comes to this destination she loves. She is an active member of Protect the Maldives and she is one of the supporters of the Reports on Fish Feeding in Maldives community on Facebook.
You can feel this respect and devotion to this paradise on Earth infused in all her responses to another Maldives exclusive interview…
When/where was you first visit?
My first visit was the Millennium!!  I could have, never, imagined that such an important, 'world wide' flip from number 1 to number 2 in writing a date would mean such a turning point in my life as well.  My life before and after my first visit to Maldives!

Why did you choose the Maldives for your first visit?


We married 1988! Today being wiser and much older, I would describe our marriage, not less than totally crazy! But we are still married!! It means, our madness, sometimes, is worth following.  My honeymoon was the transfer from Como (IT) to Zürich (CH), we were the typical '2 hearts in a hut' (Italian translation is '2 cuori in 1 capanna'), which means: 'You have no money for whatever! Just your love at disposal to survive!!'  12 years later!! We had still a strong love but (finally!!) also some money at disposal to plan a proper honeymoon!  We got to that point as 'survivors' and very, very tired! We could afford a proper honeymoon…but where?  Maldives was (and still is!!) the #1 ever for such a choice worldwide! Our "Island Destination Goal" was clear…but I had to choose (it was already ME in charge to plan everything!!) among a huge number (today is doubled!!) of resort islands! So, I had money at disposal to invest but not that big amount to involve and pay an external consultant to show me the best solution! When we are forced to research on our own, that is the moment where every single, published detail on the web counts! I had my 'wish list' and I still remember that the most important point was: 'not a TINY ISLAND, to avoid to get bored'. Today I will act exactly the contrary!!. Back then, already this wish, sharpened my choice immensely.

Which resort did you visit first?


The power of a name – "KURAMATHI". Consider that my mother language is Italian and that 'Kuramathi' translated gives you approximately 'the place where crazy people are healed!'.  Add that a part of my family name is "Mattana" (craziness). The planetary configuration, the real extension of that island and the magic of the words in different languages (or whatever) answered me: 'Your (too) long awaited honeymoon has to be booked at Kuramathi in MV!!'If you consider how my first trip started, you might wonder how I actually ever fell in love with the Maldives.  First, I suffered seasickness generally, but the cost of the seaplane wasn't fitting our budget at all so we took the speedboat nonetheless.  Then, the boat 'caught on fire'!  No guests noticed, since they were all inside (including my husband, sleeping) but I needed to breathe fresh air outside and keep the horizon balanced and I saw the dark smoke coming out of the boat. Somehow we just made it till the island.  Then, I didn't notice that they had us in the wrong room category because we were so tired. We just couldn't sleep with the mold smell in the tiny room, the noisy AC, the water running in the bathroom gave us a bad night! and in my mind 'OMG, did I really booked this hut for our honeymoon?!' [ed. note – Kuramathi has long since renovated its villas]. I went to the Reservation Manager and found out I DID NOT! They had put us in the wrong room category. Fortunately, we were upgraded. That was the magic moment when I realized that not only did I love Maldives' stunning, natural beauty, but I also loved its hospitality system 'one island/one resort' (as I myself worked in this field!). It was mandatory for me to know each and every one of the existing resorts and their different accommodation categories. Not only do you risk picking the wrong resort for you but, you also can simply book the wrong accommodation on it and ruin your stay yourself.  From that moment on, my passion was to know as much as possible about all Maldivian resorts, because I was already sure that I wanted to be back and experience the most of them. The rest of the world disappeared as goal of my holidays forever!!

Any advice for first time visitors?
Millions!! But let's give just 3 essential (IMHO)…

Respect the Maldives – The nature and the people.  Take some time before you fly to know the fragile ecosystem you are going to enter and, for sure, enjoy it as well! Protect and respect this wonder of nature.  Make an effort to approach all the people with a huge respect too.  That includes off the resort at places like the airport where women should dress with a bit of decorum (covering shoulders and knees). Here is a useful guide for protecting the environment by

Protect the Maldives

,

a NGO where I am active member too
Use a Professional – Based on my own experience, it is essential that you list all what you wish to find on your resort and then consult a trusted professional to fit your budget and needs at best (at least for your first time in Maldives, do not trust online selling platforms!). I long do not consider Maldives as a general entity but more as a container of 100s, very different experiences, depending on where you stand. So, for your very first time, you need to trust someone that knows Maldives very well, and not an anonymous booking system, which in case of whatever difficulties might arise will not help you.
Don't Worry About the Weather – Last but not least! Stop worrying about the best season to book, about if it will be raining or not! The weather is so unpredictable (and this is worldwide!) that this has not to be a hurdle to your Maldives! I never consider this aspect when booking and guess what!  In 17 years I was blessed to count at max 5 days of rain (summing the hours in my different, many stays!!).


How many resorts have you visited?
I left my footprint on 54 resorts. In addition, I have experienced some Guest House Islands as well, because I wanted to build my opinion about this quite new form of hospitality. However, I ended up deciding that this is not the hospitality fitting my needs and interests in Maldives…at least so far.  There is a PS! I visited Fuvahmulah as well.  In this case, we have the 'one island/one atoll' concept.  Now I say 'in Maldives, there are resorts, there are gesthouses and then there is Fuvahmulah!' Although, I was lodged in a GH (in a Suite that some resorts can really still dream to have!!) the main feeling there, was that an entire island was lodging and taking care of me! I am not a 'backpacker' but I would suggest to all such around the word that if you really want to experience Maldives that way. There is only Fuvahmulah to choose from!

Which one have you been back to the most?


Being my dream to visit all resorts in Maldives before I die, there is no space in time for a 'second touchdown'! I must carefully manage all my bookings to still have a chance to get to this goal, which because of the huge number of new resort openings is already concretely fading away! This means: I am not a resort's repeater but a destination one!  However, I was blessed to win a few web competitions regarding Maldives and one of them made me a repeater to that specific resort.



What are your resort pet peeves?
OMG!! This question could take me months to answer!! There is nothing that I am more skilled in than noticing the details in a resort!! "The devil is in the details!" is my credo!! I must admit that.. with the time passing by and the numbers of resorts I have visited, this natural "gift/curse" of mine got to a stellar sharpness, simply because I can compare many properties and see the better solution for these "pet peeves".  Let's just list  three that are my "pet peeves", two big, and one small.

The Irritating '++' : There is no valid explanation and reason for me to see it on whatever menu/price list in a resort! I am not supposed to take my time, on holiday, and calculate myself what a bottle of wine is, actually, at the end, costing me! Simply show me the total cost and at the bottom of that page inform me that your price includes your xyz%  of 'whatever' your +++++++++, taxes, etc.
The Lovely Single '+1': That is '+1 hour' to Male' time! If some resorts manage it, why are other resorts unable, or not willing to?! From a mere customer's point of view, this is already gold! We have sunrise/sunset around 7!  Loosing 1 hour in our first day in Maldives is not that big of a tragedy. We would be so much happier to have it at disposal on our departure day!! And I am nearly sure this will cost less to a resort in terms of energy supply (no studies at disposal, just the old good common sense!) and +1 is just the minimum! There are 3 brave resorts that manages a +2 to Male'! Simply my dream!
The Pool Entry – I will never understand why in a private pool in Maldives (which exists to relax and lounge, only), I am supposed to enter and exit it as an Olympic athlete! Even new opened resorts still boast those ugly, uncomfortable metal stairs to enter/exit the plunge pool?!?


Which resort most exceeded your expectations or surprised you?
To name just one, describing what incredible happened there, will be very unfair to Maldives! Let's say that every single resort, I touched, had a big, amazing surprise for me! and this is not an easy task!! Since I set my barefoot on an island already knowing all the possible info about it! Even the most hidden ones. It could be that it is also my attitude about this place creating the magic, the unforgettable experience, the steel ties. I don't know and I don't care! I just enjoy to feel simply blessed!

Being a certified sommelier, what is the favourite glass of wine you have had in the Maldives?


Wine is part of my work life. I, on purpose, leave this aspect back home. I have the opportunity to taste great wines all year long and in perfect serving conditions. Because of the tropical temperature in the Maldives, I only drink sparkling wines when visiting.

Is there any ritual you do every visit?
Yes, some. But one in particular! I must mark my territory!! I regularly move furnishings around in my accommodation and tell housekeeping not to move them back in the original position till when I leave! The time I spend on a resort is unique, my 'home' has to be as well! This always includes removing any kind of carpets and blocking curtains in open position 24h a day. Other rituals are…

Taking always part in cleaning activities: If not organised when I am there, I create one on my own!)
Sleeping outside: Some resorts are more suitable for the latter, but if they are not I still strive to create this experience on my own! In one resort I never touched the bed for 5 nights and when the Executive Housekeeper checked my villa and still saw the untouched 'Welcome' decoration on the master bed, I was jumping from joy seeing his interlocutory expression.
Keep a map of the island with me at all times: Again, the Devil is in the details! I constantly have a map of the island by me where I can note the remarkable details while I stroll around or dine, or just stop observing something.
Never miss a sunrise: This means to be awake every single day I am in Maldives at that time and possibly in a conscious, active way to capture the sunrise at best! (now you can better appreciate my unconditional enthusiasm for +2 to Male' time).
   Happy Birthday Paola!  If there was a "Maldives Fanatic Day", then today would surely be it.