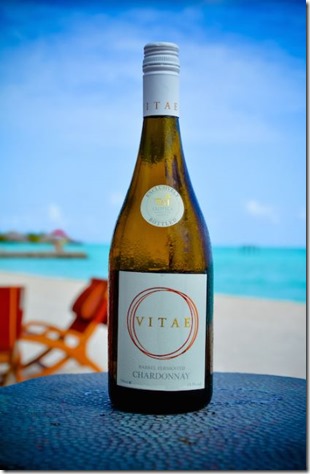 The water villa floors are not the only place you will find an exotic glass in the Maldives. Their world class wine cellars house some of the most exquisite vintages from around the world.
One might not think of the neighbouring subcontinent as a particularly noteworthy appellation. We fell into that same trap. We went to a champagne blind taste testing which featured a Indian sparkling wine called Omar Khayam (which at the time was stocked by ASDA). We were all expecting it to taste like yesterday's vindaloo, but in the tasting everyone (blind again) rated it as one of the top bubblys. We mistook it for Moet. It turns out that Omar Khayan had gone into to partnership with Louis Roederer and produced some actual vintage runs with exceptional quality (Unfortunately the production of at least the vintage stuff has stopped and I can't find any bottles anywhere. We did try some N.V. bottles, but frankly, they did merit more of a comparison to curry than champagne).
But you can find some top bottles at Taj Exotica from the budding producers. Especially Fratelli Wines in Nasik, India which has produced a selection "Specially matured and bottled for Taj Exotica".
Fratelli, "Sette VII" Sagiovese/Cabernet Sauvignon, 2011, $95

Fratelli, "Vitae" Chardonnay, Barrel fermented, 2014, $75
शराब के बिना भोजन बिना धूप के एक दिन की तरह है