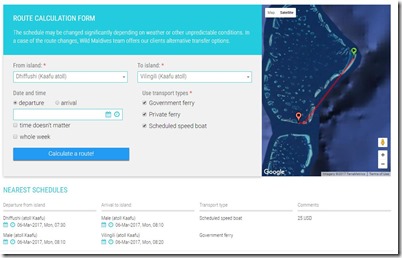 From the high ways of water usage to the water used as highways. Maldives Complete does focus on resorts (as opposed to guest houses or general destination information like inhabited islands), but I am also trying to assemble a collection of top online links for guests to this paradise. One of my original motivations for setting up Maldives Complete was my disenchantment with the quality of websites about the Maldives. Too many sites provides a thin veneer of weak, pedestrian and dated information as a lure to get you to buy expensive holidays through them. But on Maldives Complete, the "Online" tag provides a compilation of the most useful sites.
I came upon this Wild Maldives site with ferry schedules in the Maldives TripAdvisor Forum. They describe themselves as…
"Development and promotion of budget travel to the Maldives. From $50/night. Beach holidays, scuba diving, exotic fishing, adventure trips, transfers. Wild Maldives aims to develop and promote budget travel in the Republic of Maldives. We link travellers directly with the local service providers – guest houses, restaurants, speedboat operators, diving schools, guides, and many more. Ideal for the self-sufficient travellers, who don't want to overpay for services they can easily attain by themselves through the internet, yet would appreciate a helping hand during their trip to an unknown faraway land."
What I really appreciated was their interactive ferry schedule. The route calculation form provides a parameter driven filter engine that then displays the route options graphically on a Google Map. Two of my favourite web components – database interrogation and GIS (geographical information system).
I have taken a ferry a few times for some of my more obscure tour detours. For DIY and budget travellers, they would be a necessity for getting around. I'm not sure if there is some way to forge a cheaper price tag to your resort holiday with them. Everyone gets apprehensive about spending $200-300 for a seaplane transfer, but I had a boat transfer to Cocoa Island that cost me $500 (!) and the private transfer from Kurumba to Male (8 minutes) costs $80 (although they do offer cheaper alternatives). So maybe a leisurely and notably less luxurious ferry ride might just be a useful cost saver for some itineraries (though, in reality, nearly all resorts provide speedboat transfers free of charge, and if you are paying thousands for your week stay a few hundred will likely not be a big concern).