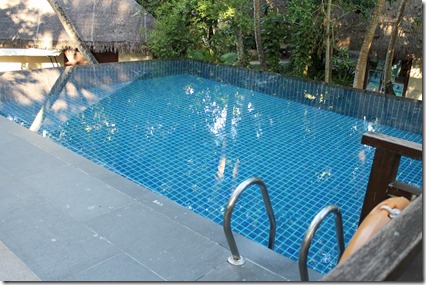 One of the most unexpected swimming holes I've come across traipsing about the full extent of the Maldives was Shangri-La Villingili's "diving pool". I've seen all manner of artistically sculpted infinity pools with frothing fountains, so what was so distinctive about this simple enclosed pool tucked away in the island right next to the dive centre? That's just it. It's not designed to be the centre of attention, but to make students in it the opposite of the centre of attention.
Standard operating procedure for novice divers taking a PADI course during their Maldives holiday is to go through some of the introductory activities in the resort pool. It might be safe and secure from currents, sand or murky water, but it's considerably less so to a surrounding gallery of pool loungers encircling you like an amphitheatre. Learning to dive can be a bit of a stressful experience for some, and those students' anxiety isn't going to be lessened by having an audience of strangers.
The diving centre pool is only available to diving centre students. Another unusual characteristic of Villingili's pool is that it is raised up. This means that not even the random passer-by can overlook your efforts to get to grips with operating underwater. Definitely the place to learn scuba for the self-conscious.