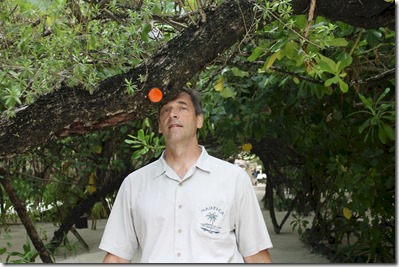 Heads up! Not everywhere in the Maldives has expansive headroom. Especially since the tropical vegetation grows quite dense in places with some very low branches. The resorts try to send the paths clear of the low hanging woodwork, but on small islands, it often has few options and also wants to minimise chopping things down.
Sometimes the tropical canopy is so dense that it forms a lush awning over your sandy path. And sometimes that tropical growth is so dense that it can get right down in your face…literally. One resort with particular thick jungle canopy is Taj Exotica. And to help prevent periodic concussions for the somewhat taller guests (like me), they have affixed red reflectors onto the low branches for warning. Probably best to leave the "knocking you out" to the dazzling natural beauty.
This post has actually inspired a new category tag – "Safety".