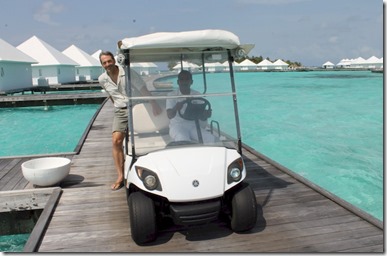 Today is the biggest travel day of the year in America – the day before the Thanksgiving holiday. Not all Americans trek "home" (parents' house) for Christmas (especially if they have young children of their own waiting for Santa at their own house), but nearly everyone makes the effort for Thanksgiving. Hence the "Homecoming" tradition of "Homecoming Game" and "Homecoming Queen" (all part of the day as the town converges on the local high school football game in the morning to see old friends while, typically, Mom is home preparing the feast).
The mayhem of families scattered across a continent was immortalised in the comedy film "Planes, Trains and Automobiles". In the Maldives, transport is more of a planes, boats and buggies affair. When the buggy shuttle pulls up, you know you are just about at your new home in paradise. Mind you, these buggies often only go a few hundred yards, but when the Maldives laziness sets in, then any physical activity can seem daunting.
Many resorts offer shuttles on call for covering significant distances, but sometimes you do have to wait for them to arrive. Many times you can just call from the room or restaurant and linger placidly waiting for your chauffeured ride. But Athuruga and Thudufusi have a dedicated water villa jetty shuttle always at the ready to lighten you load to and from your water villa. The silent electric buggy just zips people back and forth along the quite long jetty (the resort water villas are spread out quite a bit more than typical). But instead of facing an 100 metre trek along the jetty to your door, the shuttle will zip over to pick you up as soon as he spots you emerging from your door or stepping onto the jetty.