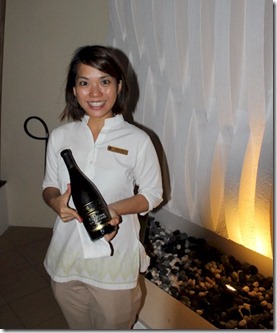 The Maldives are renowned for their legendary sunsets, but the night time celestial displays of stars and moon are equally as dazzling on the light-pollution free skies reflecting on the glass-like seas below. The full moon is always an occasion for a special celebration and tonight's full moon marks the Chinese Mid-Autumn Festival in particular.
The event is a time of coming together with friends and family for prayers of thanksgiving for the harvest bounty. Like the American Thanksgiving holiday, there is plenty of feasting and to compliment the cornucopia of foods, Shangri-La Villingili offers the most exceptional range of Chinese libations…
Baijiu (Chinese White Spirit) – Distilled.

MOU TAI (mao – tai) Produced in Guizhou, Southwest China. Often referred to as Chinese vodka. Distilled from sorghum. Unique because of 'sauce-fragrance'. Alcohol degree from 53 to 35 (the higher, the more expensive). Official alcohol beverage in Chinese governments. Claims to be one of the three most famous liquors in the world, besides cognac and whiskey.
WU LIANG YE – Produced in Chengdu. Often known as the magic liquor of China. Purest, most authentic baijiu distiller. Complex with a fragrant peppery nose, soft and mellow on the palate

Huangjiu (Yellow Liquor) – Fermented

SHAOXING WINE (shao – sing). Produced in Shaoxing, Zhe Jiang. Shaoxing is the most internationally known high grade yellow wine, made for drinking and cooking. Traditionally drank both chilled and warm.
NU ER HONG (nü-eR-hong). Produced in Shaoxing, Zhe Jiang Fermented from glutinous rice and wheat. Alcohol degree is less than 20 degrees. Traditionally drank warm. Nu Er Hong has a beautiful story. In the ancient times, when the baby daughter was born, the parent would carve or paint jars of wine and bury them underground until the daughter got married. Thereafter, the parents would dig the wines out for a feast with the guests, hence its name Nu Er Hong (Daughter Rice Wine)

Chinese Grape Wine – Fermented

White – Produced in Shaan Xi, Northwest China. Close proximity to Xi An, home of the Terracotta Warriors. Grace Vineyard is one of the most established winery in China, and has been in operations since 1997. The first vintage was produced in 2001. Grace Vineyards Tasya's Reserve Chardonnay 2008. Color: Pale, straw Green. Aromas: Light oak, tropical fruits, cashews. Palate: Light oak, nuts, melon fruits. Mouth-filling with fresh acidity.
Red – Grace Vineyards Tasya's Reserve Cabernet Sauvignon 2009. 100% Cabernet Sauvignon. Color: Deep Ruby Red. Aromas: Blackberry, blackcurrant, subtle oak. Palate: Soft, medium-bodied red wine with blackberry notes. Fine tannins and light oak, good clean finish.

Beer – TSING TAO BEER (ching-dao). Brewery was founded by German settlers in China in 1903. Tsing Tao is the number one branded consumer producted exported in China
The catalogue above is compliments of Winnie Toh (photo above) from Singapore who is herself a Certified sommelier by Court of Master Sommeliers and also received the WSET Advanced Certificate in Wines and Spirits as well as the Wine Spectator Awards of Excellence.
This occasion has made me realise how much material I have on the Maldives' biggest guest country, China, so I am adding the tag "Chinese" today to bring together all these pieces.