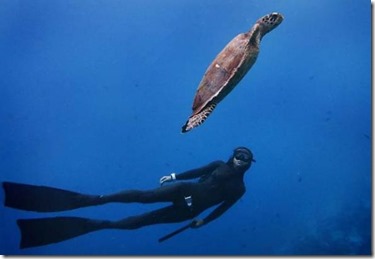 Free diving is becoming quite a popular pursuit both around the world and in the Maldives. The reef-protected atolls provide exceptionally calm waters to practice plunging the depths. Anantara steps up with its own dedicated centre and the first to provide the popular PADI certification.
While competitive free diving can be quite mind-bendingly difficult and hazardous, basic free-diving does open up a new way to experience this aquatic wonderland. The Anantara announcement provides an alluring description of free diving's enchantment…
"Aquafanatics is the first PADI-certified free diving centre in the island nation…A truly liberating activity, it relies on the diver to hold their breath, leaving them free to move unhindered through the translucent Maldivian waters. With no oxygen tank bubbles to distort vision, the vivid colouration of coral life glows brighter than ever. Devoid of heavy equipment, guests move at will alongside inquisitive fish, developing a sense of belonging. With every dive guests acquire the ability to stay below a little longer, discovering more on each descent. Free diving is entwined with the cultural heritage of the islands in the Indian Ocean. Since ancient times locals have harvested sponges and clasped gleaming pearls from beneath the waves. Anantara's professional free diving instructor, Mari Kagaya, reveals a peaceful, intrinsic underwater encounter. 'The Maldives provide the pinnacle in free diving adventure,' she explained. 'Escaping the trappings of scuba gear, our encounters with sea life are graceful, natural and deeply personal. Guests discover their own hidden depths, not only of their body, but also the mind'."
Anantara makes an astute point that free diving is not a new fad, but actually an ancient necessity as generations have used it to explore and exploit the seas which surround it for centuries. I always remember the tradition I read about when I first visited the Maldives for coming-of-age young men. Boys, often no more than 13 years old, would jump off a boat with a rope in hand, free dive into the water where a whale shark was swimming, SWIM INTO THE WHALE SHARKS MOUTH, and then OUT ITS GILLS, hence lassoing the fish. Young boys were the just small enough to pull off this crazy feat. I would certainly consider someone to have proven their "manhood" if they did such a thing. Not surprisingly, the government prohibited this practice years ago because too many young lads were drowning in the effort.
Proving one's mettle with a PADI certification seems much more sensible to me.