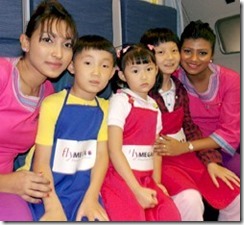 One of the highlights of flying to the Maldives is the flight itself. Once the azure tapestry of the archipelago emerges below you feel like you have been transported to another world. Sometimes it's worth getting a transfer to a distant atoll just to enjoy a bit of the aerial scenery.
The MEGA Maldives Airline gives high-flying tykes more than the view to enjoy with their "Kiddie Flight Attendant Program". (thanks Paola)…
"Children aged 7-12 years old are invited to experience the fun and excitement of being a MEGA Maldives Airlines Cabin Crew. They are provided with an apron and a name tag and given the chance to join the cabin crew in their on-board services. For example, they may be given the opportunity to make in-flight service announcements and do fun things like delivering ice cream to passengers. They may also get special souvenirs and, after landing, may be allowed to tour the cockpit, and meet and take pictures with the pilots (when the plane is on the ground, subject to operational constraints)."
I wonder if I slouch low enough I could pass for a 12 year-old?