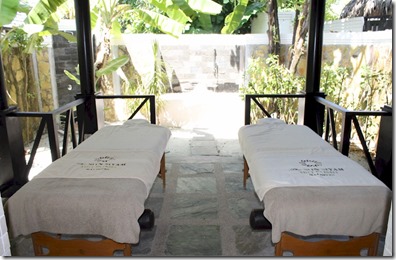 Some Maldives guests take the "get away from it all" vibe to the extreme as they sequester themselves in their little slice of paradise and hardly emerge from their villa their entire holiday. Especially, the many celebrities who escape to the islands, privacy is a big part of the allure. This seclusion is fine for the basics of R&R, but you do miss out on some of the luxury amenities of the resort.
Unless you check into Sun Siyam Irufushi's Celebrity Retreat. It is more like a mini-resort enclave than a mere villa. Want a refreshing dip? The expansive compound includes *two* pools. Want a different type of pool chilling? The villa has its own games room complete with personal pool table. Want a walk among the tropical flora? The villa has its own cultivated garden? Want a rejuvenating massage? The villa has its own spa in its own building complete with treatment tables and other amenities.
A resort within a resort.