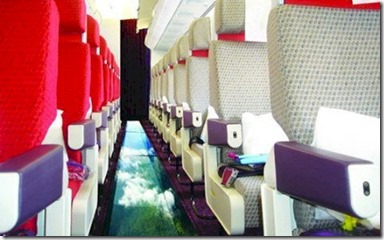 With the cancellation of the Sri Lankan Airlines direct service and British Airways curtailing its own London-Male service in the summer months, most UK travel to Maldives has required the tedious stop-over. But the customer-focused Virgin Airways has not only stepped into the breach with its own daily direct service to the Maldives, but it has done with an aeronautic innovation so appropriate to the destination…glass bottomed planes.
Richard Branson himself announced, "The Maldives is a destination renowned for its spectacular seascape. People marvel at its aquatic sights underneath the surface with glass floors in many villas and they do so when they fly above this amazeballs azure archipelago. It is the perfect destination to launch our new state-of-the-art planes which lets every passenger enjoy this turquoise tapestry when they arrive."
Using the same pressure-resistance, high tensile strength glass that the famous underwater restaurants there use, every seat is a window seat! The scenic wonder is ideal for that climactic arrival to the otherworldly archipelago as the distinctive tapestry of blues emerge in the seascape below. I much prefer these windows-full planes to the windowless planes the industry has been talking about recently. And lest you think this can't be real, see the full details on Virgin's website – "Virgin launches glass-bottomed plane".