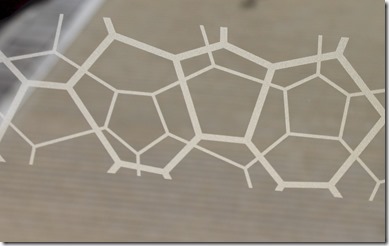 Turtles all the way down…
Turtles aren't just some namesake mascot for Velaa ("Velaa" means turtle in Maldivian). They are more like its spirit animal that imbues the property from top to bottom. And everywhere in between.
From top, the entire layout of the resort is designed to look turtle shaped from an aerial view. The water villas have been arranged in an almond shape to resemble a turtle head, and 4 jetties surround the circular island to complete the chelonian outline. From below, Velaa is itself a turtle nesting ground (as we so fortunately witnessed when we visited).
But the today's "Best Of" distinction is more about the in between bit where the essence of the turtle is stylishly reflected in every nook and cranny of the property. The most distinctive design element is its simple, chic logo motif which pervades the resort. A football-like mesh pattern of hexagons and pentagon evoking the characteristic patterns on a terrapin shell. I've included just a few snaps I took of the restaurant, the Tower bar, the spa. And at bottom is their cappuccino decorated with cocoa in the same distinctive pattern (thanks Belinda).