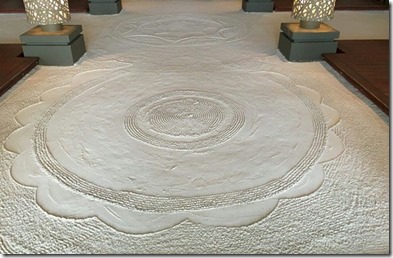 "Nothing is built on stone; all is built on sand, but we must build as if the sand were stone." – Jorge Luis Borges
One of the most distinctive aspects to the "no shoes, no news" experience of the Maldives is the pervasive warm, soft white sand. My favourite resorts are the ones who use sand floors in all the public spaces – restaurants, lounges. It's like you never ever leave the beach during your holiday day or night.
Sound isn't the only creative medium for the floor in the Maldives. Angsana Velavaru takes the distinctive sand floor to the next level with its own artistry. Sort of like a 2D sand sculpture (or 'painting'). It reminds me of Jain rice drawing. Sort of a performance art in its impermanence.
(thanks again Paola)