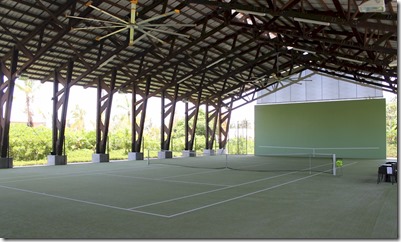 I'm always a bit surprised at how popular the sport of tennis is in the Maldives. Some visitors struggle to conceive of any pulse-elevating activity in this languorous paradise. The water sports and pool games I can understand since the water cools you off and they don't take that much exertion.
One answer to the tropical heat is to move the activity into an air conditioned buildings like most of the fitness centres. But then you are sort of segregated from the natural fresh air and environs you came to immerse yourself in. Plus, a full sized indoor tennis court would be a lot of AC.
It's an issue for people like my father who as it happens turn 80 years old today. And he is still playing competitive tennis. Still dissecting his swing for that serving perfection. For him, the brilliant sun is more than just energy sapping and dehydrating, but it is also a medical concern as he has had a few skin cancers removed so he needs to watch his exposure to the sun.
Velaa resort has the perfect solution. Their full sized covered court provides the best of both worlds inside and out. The roof shields from the sun (and the occasional rain) while the open sides maintain an outside feel. They have also installed patented "Big Ass Fans", gigantic ceiling fans which gently move the air around the help keep it fresh. Finally, they have set up a training wall for those who just want to practice some hitting on their own.
With all this tennis enthusiasm and innovations, I've added a new new "Tennis" tag to the blog.
Happy 80th Birthday Dad.