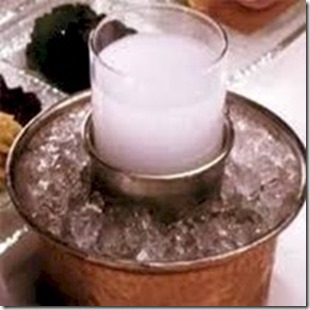 A toast to Turkey…Today is Turkey Republic Day. And the epicentre of all things Turkish in the Maldives, Ayada, no surprise, offers up a delectable array of Ottoman offerings.
You can raise a glass of Turkish Wine which includes such vintages as Villa Doluca Shiraz, Cotes D'Avanos (see below). And for afters it stocks three different varieties of "Raki" (a digestif sort of like French Pastis or Greek Ouzo) that is served in a somewhat elaborate and traditional way…
"The resort stocks the top two brands in Turkey, Yeni Rak? and Tekirda?, with both the Gold and Ala offerings. Our Raki is served traditionally, mixed with a little chilled still water in a glass slipped into a copper well surrounded by crushed ice to keep the beverage perfectly chilled (reference picture attached). We also have available ?algam, purple carrot juice which has been fermented for several weeks in wooden barrels along with cracked bulgur wheat and salt, certainly an acquired taste, that is often times served alongside Raki as a perfect accompaniment alongside a plate of freshly cut fruits."
?erefe!