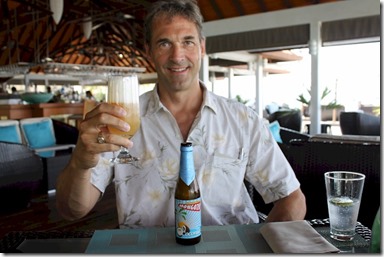 Coconut Full Moon today. Of all of the special "moons", the Coconut Full Moon must be the most apropos to the Maldives. And of all the Maldives resorts, the eponymous Kurumba – which means "Coconut" in Dhivehi – is the most apropos to toast it. Kurumba offers a number of coconut specialties including its recently introduced, "Mongozo", coconut beer. It is brewed in nearby Sri Lanka using normal processes but with a touch of coconut essence. Truly exotic brew.
Full moons have a number of colloquial names around the world. In the subcontinental region, the Coconut Full Moon is actually a cause for celebration, in particular the Coconut Day festival or "Narali Purnima" takes place in coast communities on the Indian Ocean to thank the sea God for calm waters…
"Nariyal Purnima, also known as the Coconut Full Moon, is celebrated with great merriment in many states of western India. Nariyal Purnima falls in the month of Shravana Purnima, which symbolises the end of monsoon season, and marks the beginning of the new fishing season for the fishermen as they avoid going into waters before this. Post festival, monsoon starts to recede; the sky becomes clear and the sea calm, as the tides too recede. All this makes fishing in the seas easy and safe. Therefore, the festival is very significant for the fishing community which is completely dependent on the sea for its livelihood. On this occasion, the sea god Varuna is worshipped and his blessings are sought; people offer coconuts to the sea as a symbol of thanksgiving."
"The fishermen celebrate this festival by adorning their boats and putting flags on them, painting the coconuts and taking them to the sea to offer them to the God Varuna with prayers for bountiful fish catch and to protect them from all the risks and allowing them to sail safely…Thus, this time of happiness is rejoiced in the community gathering by singing and dancing in groups. As a coconut has three eyes, it is believed that it represents Lord Shiva and this is why it is considered an auspicious offering to the holy deity. In addition to this, it is believed that, it is the purest offering which is available on the earth and also, the water and the kernel inside it are considered to be pure. Coconut is broken in front of the divine beings as a mark of respect and also to take their blessings before setting off on to a new fishing season. The pieces of the broken coconut are given as prasad and the delicacy prepared during this festive time is coconut rice."
The increasing 'clear sky' and 'calm sea', is something that all visitors can appreciate. So raise a glass of purest Mongozo!