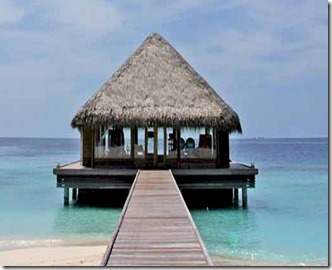 If you want work on your Olympic form without tearing yourself away from the signature Maldives sunshine and seascape, then Huvafenfushi is the fitness centre for you. Set out on its very own jetty with 360 degree views of the ocean masterfully exposed by floor to ceiling glass walls. Nice to see a bit of healthy activity given a place of prominence. So often the resort gyms are tucked away in some remote corner of the inner island. Probably because exertion and effort is sort of the antithesis of what the Maldives is all about.
Also Huva features a fine set of kit from high-grade machines to often-omitted Olympic free-weights and racks (one of my pet peeves is when a resort's fitness centre is a running machine and a few dumbbells).
When we visited last summer, it was one of the few gyms that inspired her to work off a few of the pina coladas and reef fish curries she has consumed on the trip (see below).