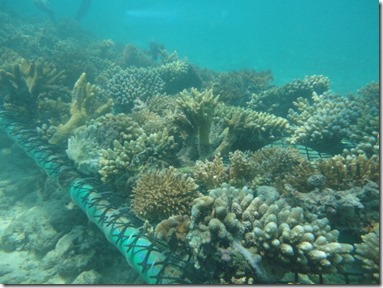 Kurumba is the unsung hero of Maldives house reefs. It has always been one of my favourite house reefs. We have snorkelled it many times and *every* time see so many critters especially of the infamous "Snorkel Safari Big 5". We also spot many distinctive smaller creatures (like the baby Zebra Eel my wife watched for ages).
One of the primary reasons why it is underrated is its relatively weaker coral growth. But this past month, the resort embarked on a *big* Reefscaping project to help rejuvenate the coral to be as vibrant as the marine animals. In fact, they laid down the biggest coral frame in the country to date…
"A team of volunteers joined forces with Kurumba staff on Wednesday (December 17) to rescue corals from a land reclamation project and help create the largest coral frames in the Maldives. Thanks to the efforts of the team two massive 20ft coral frames packed with transplanted coral have been created on the house reef at Kurumba. The two adjacent frames are the largest of their kind in the Maldives and together form a new 40ft-long coral garden."
Kurumba puts the "Big" into "Big 5".