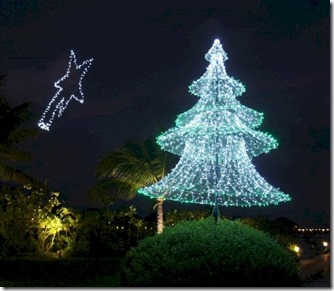 "Our many different cultures notwithstanding, there's something about the holidays that makes the planet communal. Even nations that do not celebrate Christmas can't help but be caught up in the collective spirit of their neighbors, as twinkling lights dot the landscape and carols fill the air. It's an inspiring time of the year." – Marlo Thomas
Christmas lights are such a part of the season that you can actually see them from space. And if you point your satellite window to the Indian Ocean, the bright spot will be Ayada shining out from the Gaafu Alifu atoll…
"Ayada Maldives gears up for its third festive season as it announces this year's festive program. Running from 20th December through to the 2nd January 2015, the program invites its guests to enjoy a daily round of activities, fine dining and some seasonal fun such as festive-themed movie night in the swimming pool, an afternoon tea party with Santa as the guest of honor, and of course a daily choice of specialty spa treatments at the luxurious AySpa. 'At Ayada Maldives we're focusing on making this holiday time fun for everyone,' says general manager Zafer Agacan. 'The theme for this year is 'festival of lights' and accordingly different areas of the luxury resort's spacious island are being lit up with creative designs such as shooting stars, baubles, frangipani flowers and a Maldivian dhoni that looks like it's about to sail down a small hill'."
Lights are such a big part of the Christmas holiday tradition. Tree lights. House lights. Regent Street lights have become a red carpet affair. Rudolph (with his nose so bright!). On our own house, we have a lighted nutcracker, two light boxes (flashing "Peace on Earth" and "Joy to the World" in different colours) and a string of vintage coloured bulbs. Lights dripping everywhere.
Last year, we went home to North Carolina for Christmas and one of the highlights (pun absolutely intended) was going to the Tanglewood Festival of Lights (an event so popular we packed a yuletide picnic to eat in the minibus while we queued on the road for several hours waiting to get in).
I'm intrigued by the "specialty spa treatments" Ayada mentions. There is no specific list, so I am thinking – Frank-incense, Cold-agen treatments, Claus-metic make-over, elf-ential oils, midnight mass-age, North Poultice, refleXmasology, and a Christmas wrap.
Putting the "Spa" in your Christmas "Spa-rkle"!