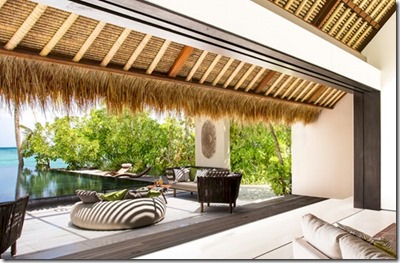 If One and Only brings the bedroom into the pool, Cheval Blanc Randheli brings the pool into the bedroom. It has made an entire wall of its villa openable for an expansive vista from within. I love this design element which was have been thinking of adding to our own house (replacing the back floor-to-ceiling windows of the dining room with French doors that open up to our back yard). The approach melds the best of both the gorgeous outdoors with some of the comforts of inside.
The architecture of the villas also features record-breaking entry doors themselves. The previous tops was The Haven's 4 meter high doors, but Randheli features"An architecture sequence of 7-meter high doors in each villa [which] creates a spectacular space."
No worries about bumping my head on the frame there then.